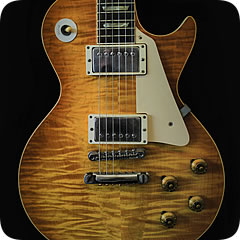 Vintage Gibson Les Paul Standard Guitar Conversions
We are exacting with the process and we know correct. Jim Page's Les Paul #1 was modified in our shop before it was sold to Led Zeppelin's guitar player. We've worked on numerous real Bursts since 1962.The routes and cavities are as exact as possible to original 1958-60 Gibson Les Paul Standards. Each guitar is shaded with vintage color dyes and finished in vintage nitro cellulose lacquer.Why do we go through all this work?? It fills a niche for the discerning Vintage Guitar Connoisseur who appreciates the vibe of the aged, old wood. In all honesty, the 1958-60 Standards are the modern day equivalent of Stradivarius violins. Very few of us can afford to purchase an original Les Paul Standard Flame top. Too many are no longer in the hands of musicians but reside in collections and museums. This is as close as you can get without a $150,000 and up price tag.These guitars started out as an early 1950s Gibson Les Paul Junior or Les Paul Specials. Why convert them? There are only around 1500 Bursts but there are over 10,000 Juniors and Specials from the same era. Many were not treated well, and even more were abused. We buy guitars that, as they are, are not worth restoring. They've been modified with screwdrivers substituting for chisels and are often painted hideous colors, like Signal Orange.These conversions require rebuilding and massaging to the Mahogany body before the Flamed Maple top is added.
These include reworking the larger neck tenon of the Junior or Special to the longer, narrow, correct Les Paul Standard tenon. We also fill original P-90 pickup routes and when the guitar is routed for the bridge pickup, it looks original.We have a process to convert the original, Brazilian Rosewood fretboard to accept trapezoid inlays and you will never see where the dots were at the twelfth fret. We are diligent in finding nice aged, correct Eastern figured maple that we used on the original 50s Standards. When we're done, most of the body of the guitar is still 60-year-old wood. It has the close growth rings of vintage mahogany, was air dried, and has been a guitar for a long time. These guitars feature many vintage parts. We scour the world for vintage caps and pots, and all manner of original Gibson parts. When we can't find them, we use the highest quality reproduction parts.
CLICK HERE TO SEE A GALLERY OF PREVIOUS LES PAUL CONVERSION WE HAVE DONE
Typically, each conversion has:
Lightweight stop tail and non-wire ABR-1 bridge
1950s deep studs
Vintage .022 Bumblebee caps installed into a new, vintage wired CTS 500K wiring harness
Medium jumbo frets
Royalite binding
Royalite pickguard
50s vintage inlay material
CREAMTONE pickup frames, truss rod cover, switch tip, stitch ring
Kluson tuners
The pickups are interesting, as well. In some instances, we are able to convert 1950s P-90s into PAFs. This includes the coil wire, magnets and pole screws. Bobbins are made of the original 50s material, also. Again, this is as close as you can get to a vintage PAF without the heavy price. We know, because we've bought a few sets for customers over the years.
Each guitar comes with a hard case.
As stated earlier, these guitars are for the discerning Vintage Guitar Buff/Player. These are not a cheap purchase but compared to an original, they are a steal and as close as you can get to an original.